Seattle has topped the list again and has now surpassed Austin, Texas! It is the nation's fastest-growing big city this decade. According to the Seattle Times, "the city's population hit an estimated 725,000, gaining 17,500 people from July 1st, 2016 to July 1st, 2017. Our growth rate in that period – 2.5 percent – was second only to Atlanta among the 50 largest U.S. cities."
Since 2010, Seattle has grown 18.7 percent in population gains. Interesting fact! The Seattle Times states that "Seattle's population increased by 114,000 in the first seven years of this decade – that's around the same amount it grew in the previous 30 years, back to 1980." We are not surprised to see these numbers with the tech industry still booming bringing more and more people into this city and surrounding areas. In fact, Seattle added more people in 2017 than all the suburbs in King County combined.
Another interesting trend from the census data was that more and more larger U.S. cities are shrinking in population size. Not in Washington State. Auburn and Redmond tied at 3.1 percent as the "fastest-growing cities in Washington State." Bellevue landed at 2.3 percent.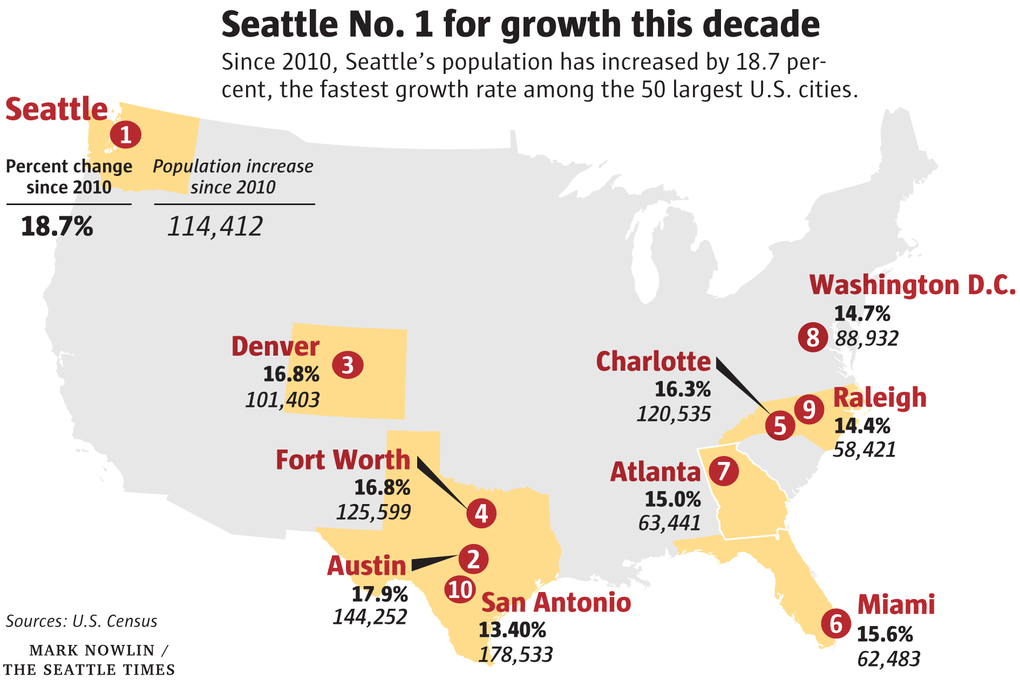 To read the full article from the Seattle Times, click here.